High-Tone Therapy
European Electrotherapy inspired by Rife and developed by Dr. Hans-Ulrich May



GBO AG is a German OEM manufacturer of medical equipment for Siemens.

After a lot of research and development, they released their own series of HiTop ® Rife-like therapy devices onto the European market which are now being used at many different clinics.

High-Tone therapy was developed by Dr. med. Hans Ulrich May. Although the units are marketed for treating arthritis, back pain, etc., Dr. May points out that their patented High-Tone Therapy units can be used for treating a wide range of illnesses.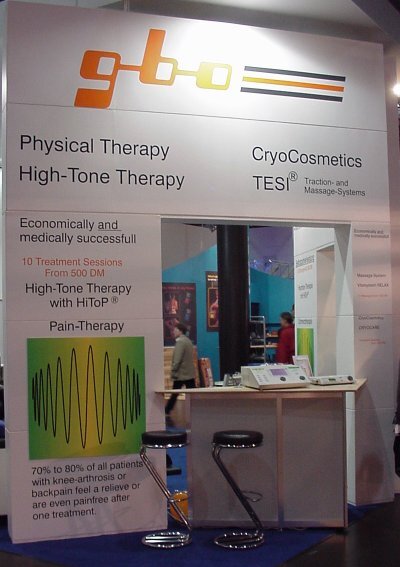 Description of the Therapy

In the last few years high tone power therapy has been established as a highly efficacious therapy in an increasing field of applications.

The high tone therapy devices were developed in close cooperation with Dr. May, the "medical founder" of the high tone power therapy. It is characterized by two basic changes:

Dr. May has significantly increased the efficiency of this treatment method by developing the simultaneous frequency and amplitude modulation SimulFAM®

On the basis of their profound knowledge in electrotherapy gbo AG has developed a completely new concept with the devices HiToP®184 and HiToP®181-H. These are not only better adapted to the needs of doctor and patient, but the current types SimulFAM®i and SimulFAM®X are particularly comfortable for the patient and of high efficacy.

I discussed the therapy with Dr. May at the show for some time and he acknowledged that it was based on the work of Royal Rife and enhanced by his own research. I tried the unit and the familiar tingling of Rife/Crane units could be felt.
The unit differs from the usual Rife devices in that it applies ALL the frequencies in the range 4096 - 32767Hz where each frequency is applied for only a few seconds (time/frequency can be varied). By applying a wide range of frequencies, Dr. May states that many ailments can be treated in the same session. I was told that the clinical studies that were undertaken support the effectiveness of this treatment although, unlike Onco-therm, I was not shown any information about such studies.

Dr. Hans-Ulrich May demonstrated his High-Tone therapy at the 2006 Rife Conference in Seattle. More details on this can be found on the Rife Forum.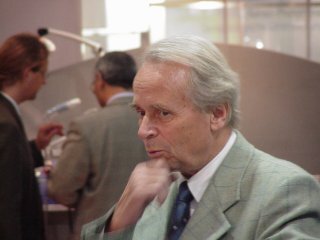 Dr. Hans-Ulrich May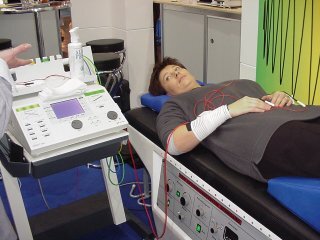 Application of High-Tone therapy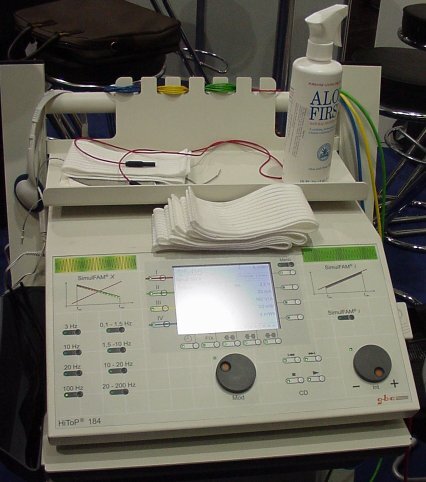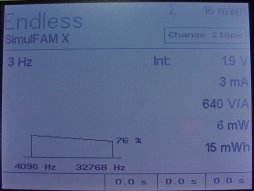 The HiToP®-184 is a four-channel device. With its particularly comfortable user interface including an optional menu support it is adapted to the needs of the practice.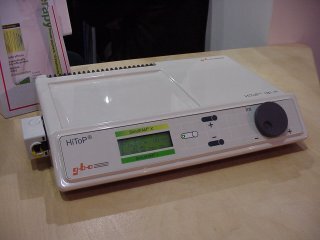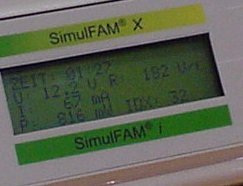 The HiToP® 181-H is a one-channel device which can be charged by the doctor with the therapy that has been proven particularly effective in the treatment of the patient. The patient is able to perform the therapy chosen by the doctor - and only those - comfortably at home . This is a significant advantage both to the patient and the doctor.
What is the principle behind high tone therapy?

High tone frequencies between 4096 Hertz and 32768 Hertz normalize the biochemical and bioelectrical processes both within and outside cells.


What impacts are achieved ?

Promotion of diffusion, normalizing activation of intracellular messenger substances (e.g. cAMP), improvement of cooperation and communication between cells for maintenance or reproduction of required structures and functions of tissue, improvement of enzyme-based metabolic processes, increase in the amount and size of cell energy "power stations", the mitochondria, antiedematous impacts with stimulation of diuresis, and acceleration of healing processes.


Is there any further literature on the process ?

Dr. med. Hans Ulrich May, medical consultant in neurology and psychiatry, has written comprehensive articles on the process.


What is the main advantage of high tone therapy?

In comparison to conventional methods, and that includes pharmacological methods, high tone therapy is much more effective at providing pain relief. It has been proven in many cases of even chronic, difficult to treat pain.Unlike pharmacotherapy the patient's metabolism is not negatively affected. Reduction or discontinuance of drugs is possible.


What are the most successful areas of application ?

The method has been proven in the treatment of painful joint diseases like arthritis, particularly knee arthritis, shoulder-pain syndrome, back pains, migraines, open wounds (Ulcus cruris) and pains following injuries and operations. In addition, high tone therapy also helps with revitalization in cases of overall bodily exhaustion and chronic illnesses.


How successful is the treatment?

70% to 80% of all patients are free of pain or feel considerable pain relief after the first treatment.


Is there also a home device for treatment?

The doctor can charge the patient device with the required number of therapies and lease it to the patient.