Oncotherm - Rife and Hyperthermia
Europe > Oncotherm
The German/Hungarian based company Hot-OncoTherm is a manufacturer of medical equipment for hospitals and clinics and sell a unit (EHY 2000) that specifically uses Rife modulation in combination with local hyperthermia as part of their therapy against cancer!

Their equipment differs from anything previously known for the treatment with Rife. Instead of a plasma tube or pads, an electro-magnetic unit applies the therapy to the patient, who lies on a special bed, using capacitively coupled applicators.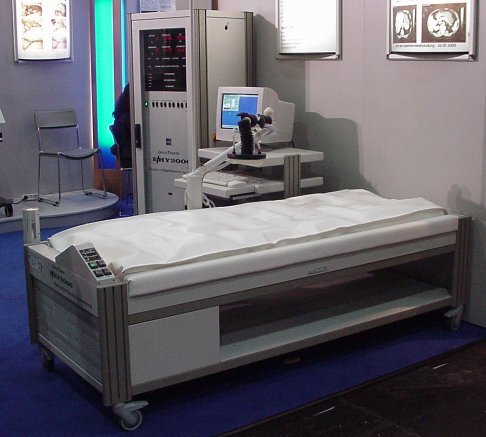 OncoTherm EHY 2000 System -
Combines Hyperthermia with Rife
The use of Rife therapy, used in this machine, is based on extensive research done in a Hungarian University and backed by more than 20 clinical trials that have been carried out in Hungary, the Netherlands, Germany and Japan.

The Hungarian Prof. Andreas Szasz Ph.D, who is the technical consultant for HOT OncoTherm, explained how they had done serious research into the Rife method in Hungary and this had led to the inclusion of the Rife frequencies in the EHY-2000.

This unit is fully certified (medical CE) for use in Europe and already is being used in a number of hospitals and clinics.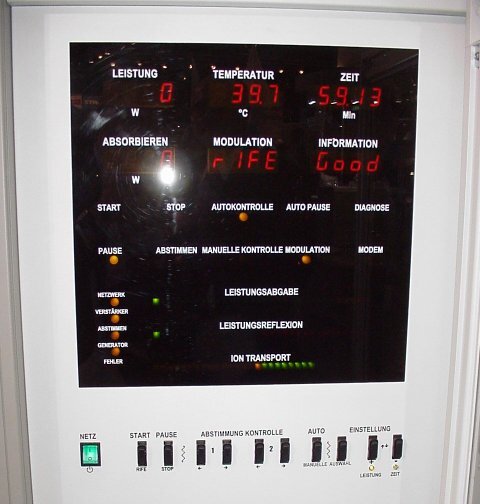 The Control Panel of the EHY 2000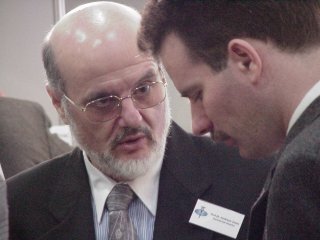 Prof. Andras Szasz
"Oncotherapy" combines hyperthermia (treatment with heat) with electro-therapy in the form of a Rife resonance frequency modulatated signal. This signal is made up of 1/3 pink noise in the range 5-10000 Hz.

In recent clinical trials in Germany, this combination has been shown to be about 20% more effective in the treatment of cancer than conventional therapy methods. It was also discovered that Rife therapy alone was not as effective as Rife therapy combined with hyperthermia.

This is often enough to make the difference between life and death and they have recorded many cases of patients who have achieved complete remission thanks to this treatment!


At the time of writing (Feb. 2007), more than 100000 patients have been treated with this equipment in European hospitals and clinics and those numbers are increasing steadily.

A list of clinics using this equipment can be found on the Oncotherm website.

On the most recent units, the word Rife has been replaced by Modulation, yet the function has remained the same.